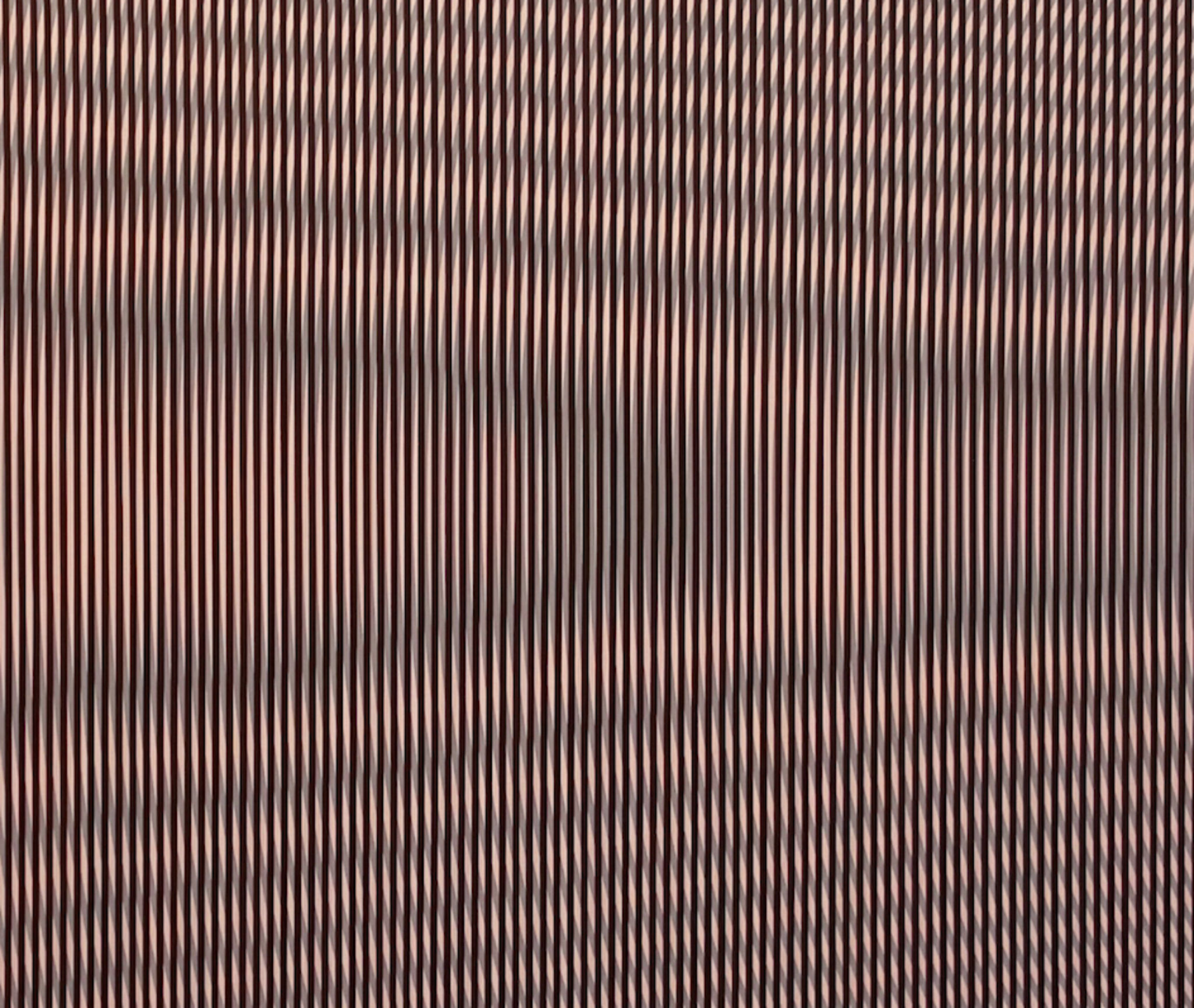 Exhibition
Kristin Nordhøy
14. April – 08. May 2016
Kristin Nordhøy's paintings present a play with reality and how we perceive it. A transparent image layer, familiar from image editing software, can be seen as the starting point of her work: elements are copied, repeated, moved or displaced. She often also manipulates perception by disturbing the eye's attempts to focus. Unlike many other contemporary artists however, Nordhøy departs from the digital and moves towards a more organic expression.The strictly geometrical paintings are, on closer inspection, rich with traces of the manual process: the structure of the linen canvas and the outlines of the hand-painted colour take up a dialogue with the ethereal quality of the optical distortion that arises from the paintings. Overlapping wave patterns create a moiré effect that seems moving and liquid.
Moiré effects appear in everyday situations on different kinds of screens but in art they refer to Op Art of the 1960s and onwards. This could be connected to the notion of phenomenology that the world can never be experienced free from our senses. Op Art is nevertheless troubled by a history of being reduced to the superficial: to pop, to banal tricks with vision – as if seeing itself was neutral.
Nordhøy works with differences in scale: large paintings fill one's entire field of vision when standing close by, while smaller ones can seem more like objects. At the same time, with their restlessly vibrating nature, they resist objectification. Maybe moiré effects are indeed nature. Moiré cannot be tamed – there is something wild and annoying about it – which strikes a chord with more contemporary ideas such as Bruno Latour's Object-Oriented Ontology or Donna Haraway's ecofeminism where demands of control and objectivity are questioned.
To actualise the significance of perception for our experience of the world and to distort this very perception is Nordhøy's artistic practice in a world that no longer looks like it did in the sixties. She might seem to follow in the footsteps of Op Art but appearances can be deceptive. What we make of the paintings says something about them, but even more about ourselves and our time.
Helena Björk
Kurator