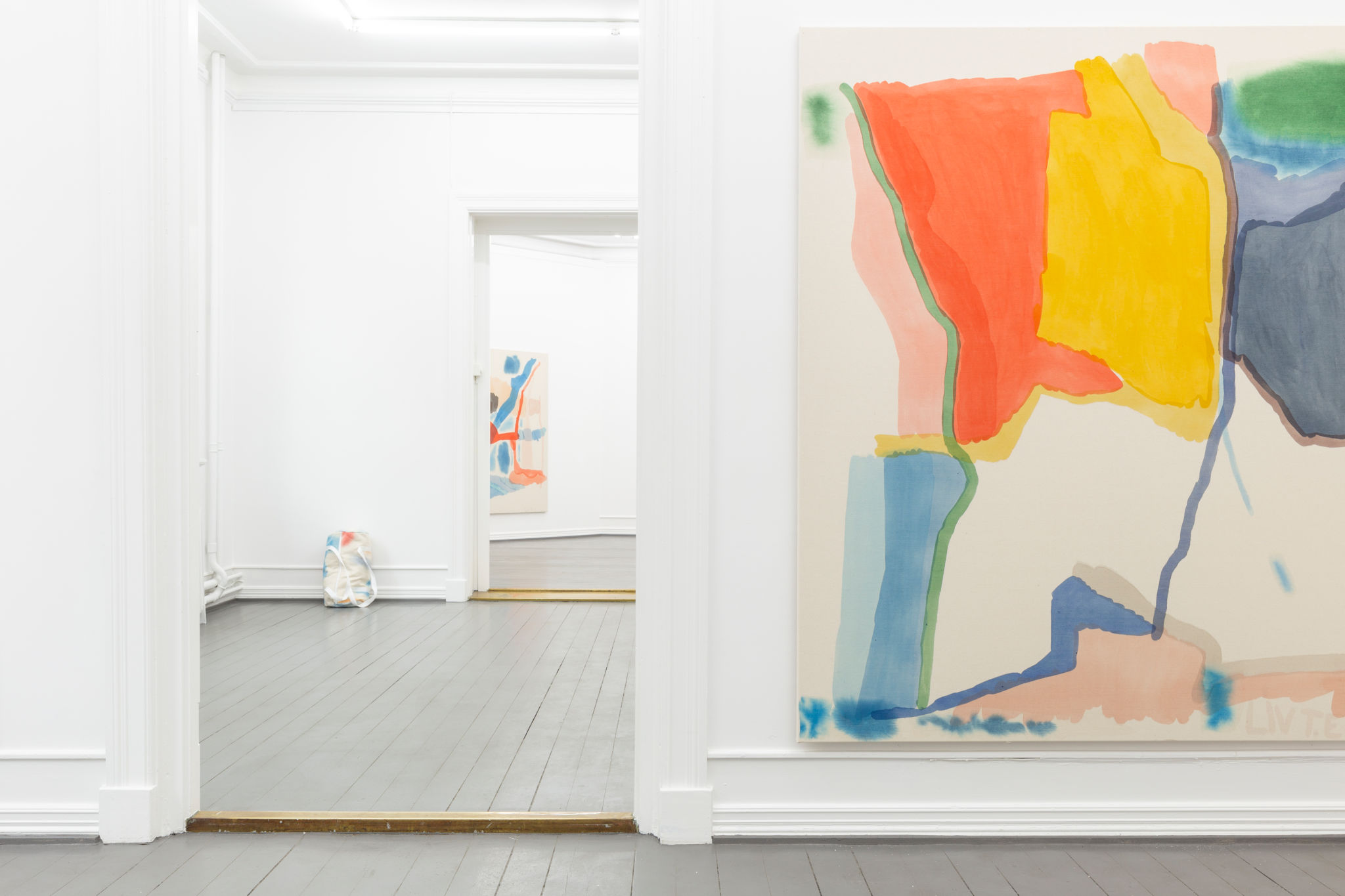 Exhibition
Liv Tandrevold Eriksen
09. May – 02. June 2019
A gym-bag can cast you back in time, to the stale smell of a week-old wet towl; to the body going limp while the class cues behind you at the meter-high vault. Or outdoors, when the bat drags your body into a knot when you miss, but on the next attempt you hear the smack from the ball hitting - the long, yellow arc drawn through the air, and you legs running, almost without touching the ground; the smell of steaming skin and grass when you're lying on your back, heaving for air.
Text: Cecilie A. Størkson
Something is changing in Liv Tandrevold Eriksen's "drawn paintings." The overlapping shapes, reminiscent of lines drawn by a finger on a digital screen, have lost some of their sheen. They've started dissipating at the edges. The pastel colors are dirtied by black lines, colors that bleed into each other bare witness to a process which is more precarious than before.
Tandrevold Eriksen explains that she has become proficient at stretching canvases. As there is nowhere to hide in her paintings, she must either accept mistakes or start over. Often, she has started over. Still, she has held on to the un-stretched canvases, in an ever-growing pile of discarded attempts. These attempts have been re-purposed and sewn into gym-bags.
The shape of the gym-bag, which formally is a natural continuation of Tandrevold Eriksen's painted paper-sculptures, opens up the possibility of drawing parallels between physical education and the artistic process. In both of these potential spaces of freedom, frustration and deliverance interchange. To progress as a contestant, the repetition of mastered skills does not suffice. From time to time you must also expose yourself to what you know you can not overcome. The potential for failure is great, for the gymnast as well as the abstract painter. But in the end, this is what lets them rise to the next level: The inquisitive exploration of failure.
---
Liv Tandrevold Eriksen (b. 1976) graduated with a Masters degree from The Oslo Academy of the Arts (KHiO) and has participated in a number of exhibitions in Norway and Scandinavia. She has had solo exhibitions at Tag Team (Bergen), The Norwegian Drawing Association (Oslo), Kunstnerforbundet (Oslo) and Skånes Kunstforening (Malmö) as well as group exhibitions at Stavanger Art Museum, QB Gallery (Oslo), Haugesund Kunstforening and Oslo Kunstforening. In 2019 she was awarded a 10 year working grant from the Government Grants for Artists.