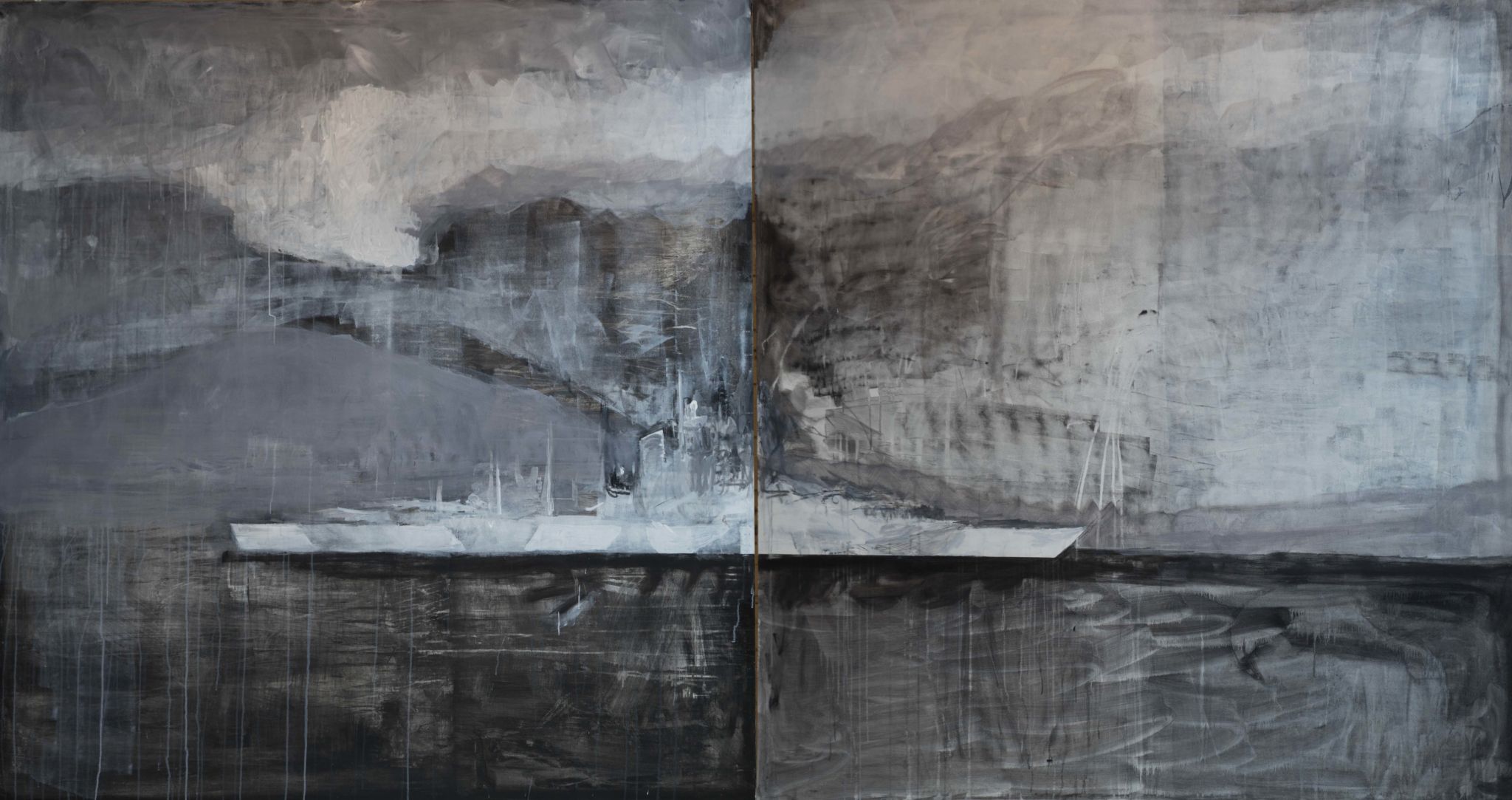 Exhibition
Vemund Thoe
Old Norwegian Abstraction
09. April – 03. May 2015
Galleri LNM har gleden av å presentere Vemund Thoes utstilling Old Norwegian Abstraction.  Vemund Thoe (1980) har sin utdannelse fra Statens kunstakademi, Oslo og Central Saint Martins College of Art and Design, London. Han har gjort seg bemerket med flere utstillinger i både inn og utland og er kjøpt opp av flere store samlinger.
Thoe har tydelige forbindelser til den modernistiske arven, og fører denne videre gjennom sine arbeider. Kunstneren ser på abstraksjon som noe appellerende, men samtidig introvert og kvelende. Tradisjon og fornyelse er likestilt i arbeidene. Utstillingen antyder noe dystert og nordisk, likevel får man en følelse av trygghet i disse mørke maleriene. Blant de abstrakte maleriene i utstillingen finnes også figurative elementer, som et maleri av slagsipet Tirpitz, senket utenfor Tromsø i 1944, et frimerkealbum som også relaterer til 2. Verdenskrig og et portrett av kronprins Haakon Magnus som står på sitt kontor omringet av et mørke.  Thoe er oppvokst på en skøyte i Svolvær og interessen for hav og skipsfart har i de senere år kommet til uttrykk i hans malerier.  
 
"Havet utgjør en kraft man ikke har kontroll over, som i sin mest ekstreme form utgjør et abstrakt helvete for mennesket."  Vemund Thoe. 
 
Kunstnerens malerier av skip vil bli gjengitt i en utgivelse på Orkana forlag til høsten, i hans første egne bokprosjekt Skip. 
Thoes arbeid forblir en fysisk intuitiv ting og han har uttrykt at han foretrekker å male om vinteren. Om våren bruker han derfor et gjesteatelier i Tromsø. Han har også tilbrakt mye tid på Svalbard, noe som gjenspeiles i hans arbeider. Det er das Winterleben som gjelder.