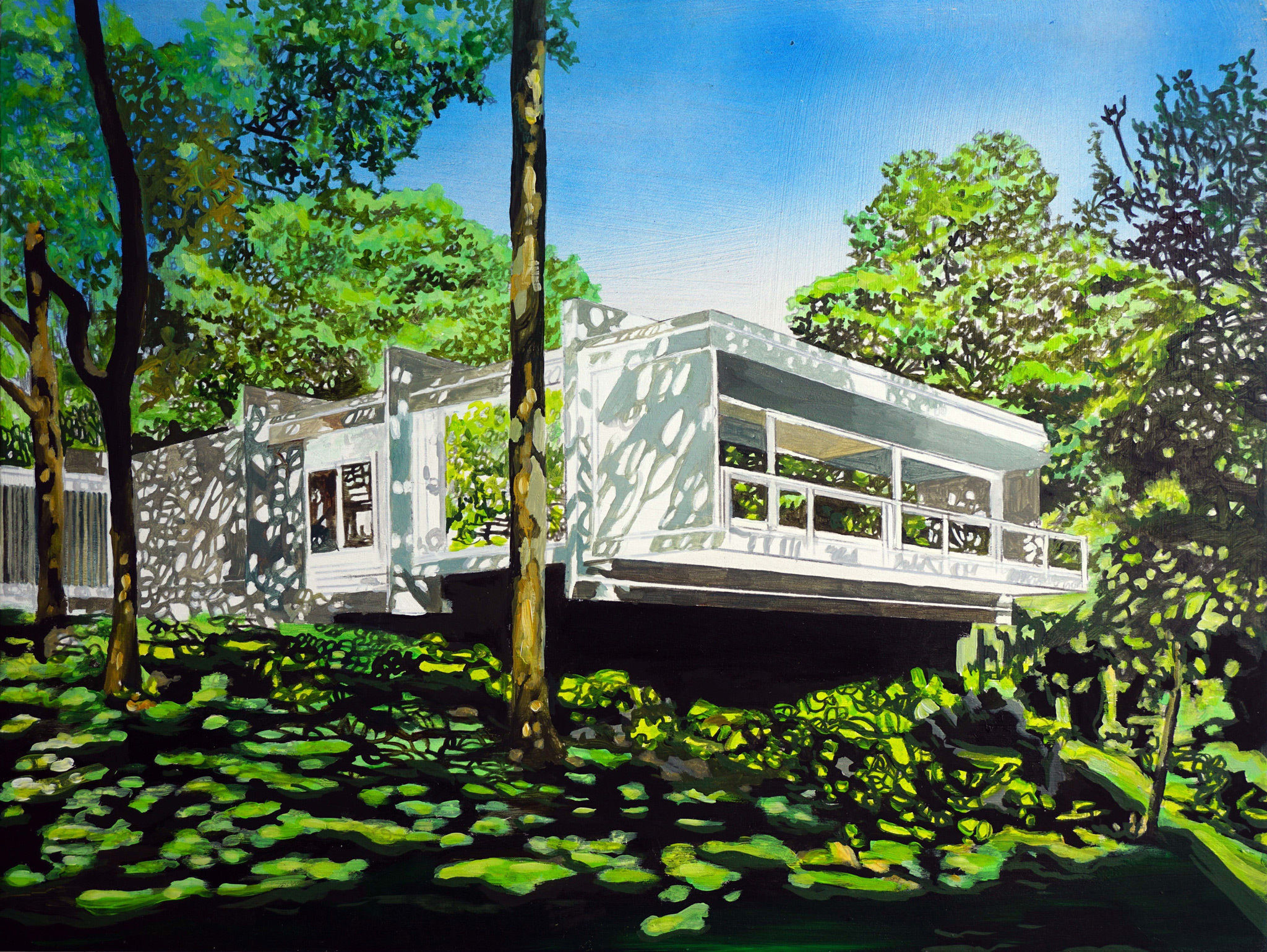 Exhibition
Eamon O'Kane
06. April – 07. May 2017
Eamon O'Kane utilizes the imagery of Modernism in both his installations and images as a jumping off point to explore humankinds's noble attempts to develop a harmonious relationship with the environment. His Fröbel-inspired installations pay homage to Friedrich Fröbel, the inventor of Kindergarten, and those Modernist artists, architects, and designers so influenced by his teachings.  In his paintings, Modernism becomes the thread by which Eamon explores the double-edged sword of human achievement – the effort to achieve utopia through artistic pursuits and the inevitability of the failure to reach that exalted state of existence.
At Galleri LNM the artist presents a new series of small and medium scale architectural paintings and drawings on panel and paper as well as an ongoing series of paintings entitled 'Ideal Collection' which O´Kane has been working on for over ten years. As former Senior
Curator of the Irish Museum of Modern Art, Catherin Marshall states; 'O'Kane plays on the notions of the ideal; the ideal studio, the ideal art collection, the ideal museum in his work. The concept, for O'Kane as for Plato, the philosopher most deeply associated with it, clearly indicates the impossibility of its existence, in any thing other than an imagined or spiritual sense. So O'Kane's work posits an imaginary world against which to experience the real one. In a very personal way he draws together some of the icons of art history, contemporary as well as historic, that inevitably impacted on his practice and his thinking as a young artist. Coming from a generation profoundly informed by the writing of Freud and Barthes, O'Kane knows that it is impossible for any of us to acknowledge all the sources of our creativity, since many are deeply embedded in unconscious memory. He opts for open revelation instead of pretending, as so many artists have done, that they achieved what they did single-handedly.'
In other works in the exhibition he investigates E-1027 the famous house designed by Eileen Gray, Mies Van De Rohe´s Villa Tugendhadt, Arne Korsmo´s Villa Stenersen and Planetveien 12 and Walter Gropius´s Master Houses in Dessau, Germany.
Eamon O´Kane has over 50 solo shows and numerous group shows, publications, and awards/residencies to his credit. His multi-disciplinary practice has consistently been drawn to architectural contexts, whether in his 'Froebel' installation works that explore environments of play (currently on show at Rochester Art Center in Minnesota), or else in works such as Glass House that presented a scaled model of Philip Johnson's iconic 'Glass House' at California 101, San Francisco in 2010 and in his solo exhibition at The Sheldon Museum in Lincoln, Nebraska in 2013. O'Kane has exhibited widely in exhibitions curated by Dan Cameron, Lynne Cooke, Klaus Ottman, Salah M.Hassan, Jeremy Millar, Angelika Nollert, Yilmaz Dziewior, and others. He has been recipient of The Taylor Art Award, The Tony O'Malley Award, a Fulbright Award, an EV+A open award (Dan Cameron), IMMA residency in Dublin, BSR Scholarship in Rome, CCI residency in Paris, and a Pollock Krasner foundation grant. He has been short-listed for the AIB Prize, PS1 studio fellowship in NYC and the Jerwood Drawing Prize in London. Since 2011, he has been professor of Visual Art and Painting at Bergen Academy of Art and Design, Norway.