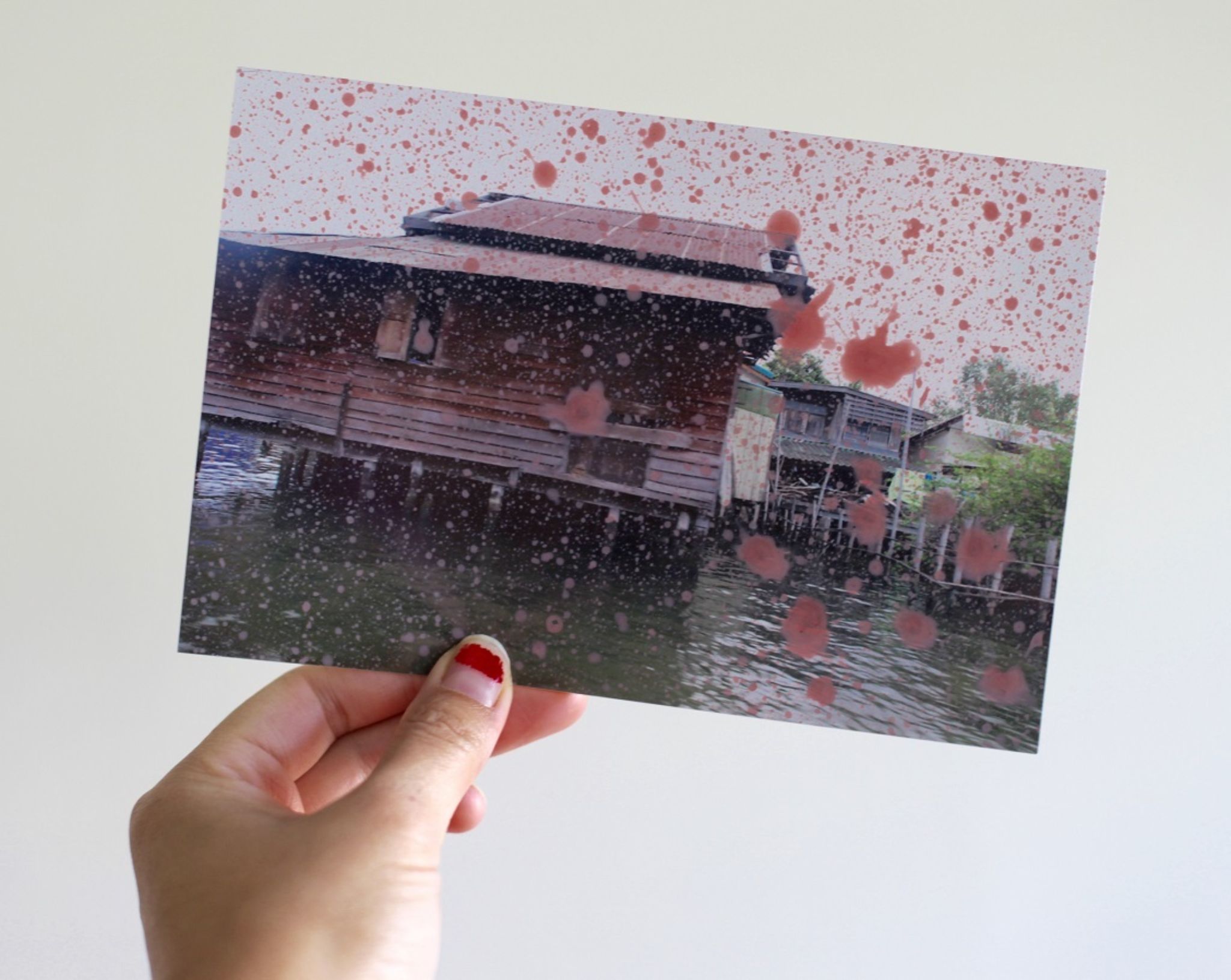 Exhibition
Velkommen til Apichaya Wanthiangs utstilling 9. august.
God sommer!
02. July – 01. August 2018
Drivved og Spøkelsesjegere
Jeg hører på nyhetene at vannet har steget. Det har oversvømt jordene, bedervet risen. Jeg ser for meg hvordan det må være. Å se på at det skjer og være maktesløs. På avstand vet jeg egentlig aldri hva som skjer. Selv om vi nå har internett er vi ikke vant med å kommunisere mye. Jeg prøver å forestille meg steder rundt i verden som har blitt oversvømt, alle sammenkoblet i en prekær økologi. Jeg bekymrer meg, og er redd for at dette er utstrekningen av mitt engasjement.
Frenetisk søker jeg på nettet etter bilder. Forsøker å fatte følgene av flommen. Både der du er, og ellers. Jeg finner en overflod av billedmateriale. Skitne toner av grønt og brunt -- de blodrøde gatene i Dhaka. Samtidig vakre og skrekkinngytende. Maler-hjernen min ser på bildene og ser himmelen og hustakene reflektert, mangefargede gjenstander som flyter forbi, lys som brytes. Men hva ligger under disse leirete overflatene? Gjennom å male tvinges kroppen min til å ta del i abstrakte bevegelser som ikke er mine egne. Forsøker å agere en strømning, gå inn i en flyt, å nærme meg deg.
Driftwood and Ghost Hunters
On the news I hear that the water has been rising. Flooding the fields, rotting the rice. I imagine what it must be like. To watch it happen and be powerless. From a distance I never really know what's going on. Although there's internet now, we are used to not communicating much. I try to imagine places around the world that has been flooded, all inter connected in a precarious ecology. I worry, and worry that that is the extend of my engagement.
Frantically I search online for imagery. Try to grasp what the impact of flooding is. Both where you are, and else where. I find an abundance of imagery. Muddy greens and browns, blood red streets of Dhaka. Beautiful and horrific at the same time. My painters brain look at the images and I see the sky and the roofs being mirrored, multi coloured objects drifting by, lights refracted. Yet what lies underneath these muddy surfaces? Through painting my body is forced to engage with abstract movements which are not mine. Attempting to embody a flood, entering a flow, nearing you.