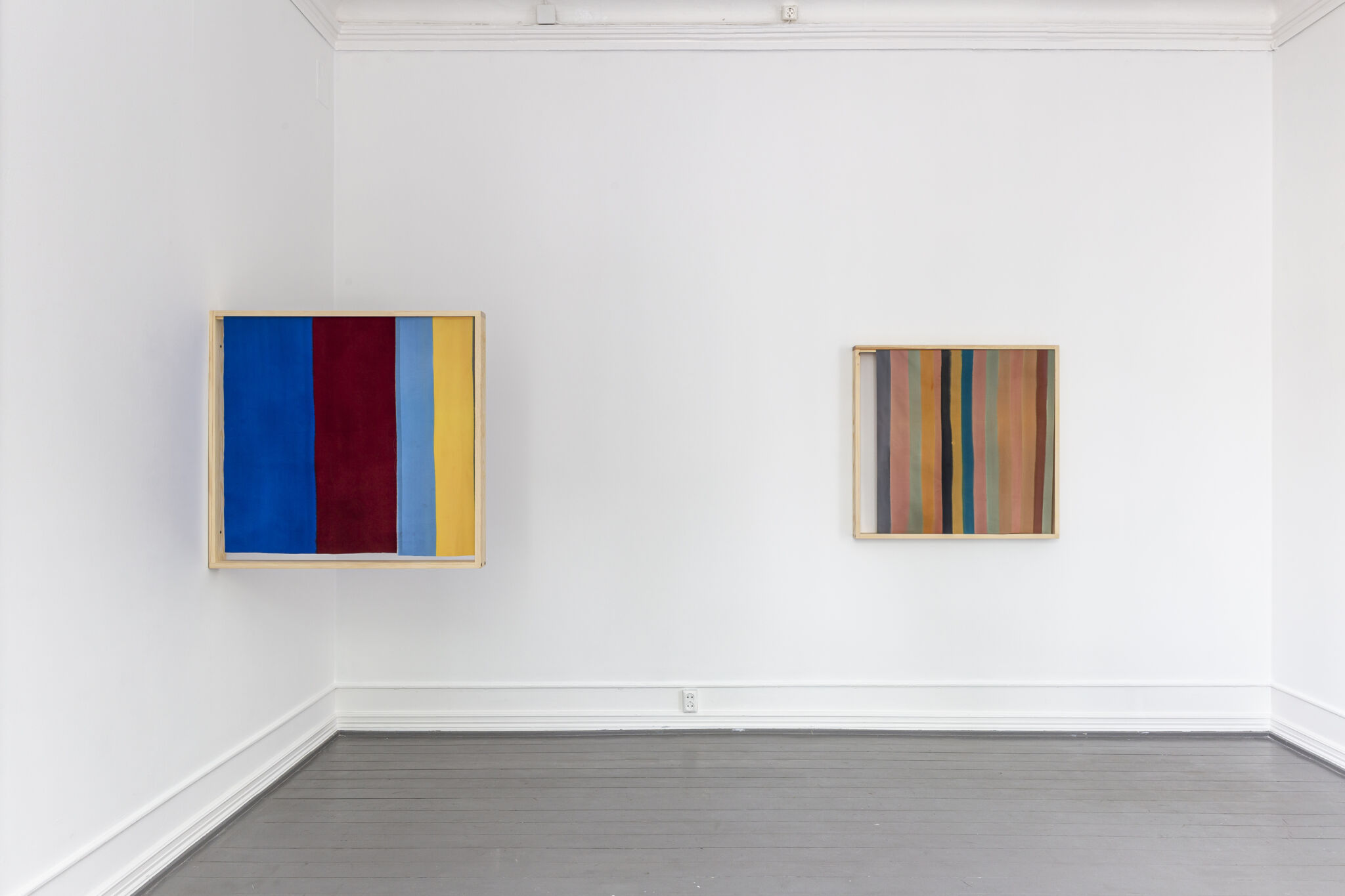 Exhibition
Kristen Keegan
Field
12. August – 12. September 2021
Painting on canvas is in essence a textile with colour, stretched over a frame.
For this exhibition Kristen Keegan has reconstructed the painting and allows the canvas stretcher to become a sculptural element, while the textiles hang loose inside the frame. The textile paintings have no front and back, they can thus be mounted to be seen from both sides, either as sculptural installations standing on the floor, mounted so that they stand out from the wall and both sides can be seen, or hung flat on the wall like a classic painting.
The textiles are a light cotton fabric dyed with textile colour, with vertical colour fields, where the dye occasionally creep into the neighbouring colour field, or she creates sharp encounters between the colours. Keegan expresses a certain ambivalence to image making, she does not want images with a narrative, beginning or an end. They could go on indefinitely, or begin elsewhere. She wants the paintings to express what comes before perception; before colour and form organize in our minds to be assigned names and places. Before distance and depth is learned.
With the square frames, they are given limits; a beginning and an end. But the loose mounting in the frames however, where they are only held in place at the upper edge of the picture frame, will give the textiles leeway, so that movements in the room, or a gust of wind from a door that opens, can cause them to flow out of the frames.
Kristen Keegan works in the context of colour-abstraction, motivated by the limitations of the painted format. Employing methods of staining on untreated cloth, the painted surface is considered as a record of events; paused yet malleable. Keegan uses the moment of painting to allow for unplanned imaginings, following the imperatives of a minimum of materials. Once painted, these cloths become the basis for further inquiry, contextualized through their means of support. Her works have made use of tensioned ropes and rigging, handmade fixtures in porcelain and wooden frames as systems for hanging, opening the painted format to new readings. Her works are often configured for specific spaces.
---
Kristen Keegan
(born in Edmonton, Alberta, Canada, 1988) is an artist based in Bergen, Norway. Recent solo exhibitions include Soft, Mikey Laundry Art Garden, Bergen (2020), Color Gap, Studio 17, Stavanger (2019), The urgent, slow look, Hordaland Kunstsenter, Bergen (2019), and Slipping Image, c3, Melbourne (2018). Keegan is a recipient of the Visual Artists' Remuneration Fund, a one-year scholarship, and a scholarship from the Canada Council for the Arts. Later in 2021 she is due to have a solo exhibition with the artist-run organization Konstepidemin in Gothenburg, Sweden.
The exhibition has been produced with support from Norwegian Visual Artists Fund (BKV), Arts Council Norway and Canada Council for the Arts.