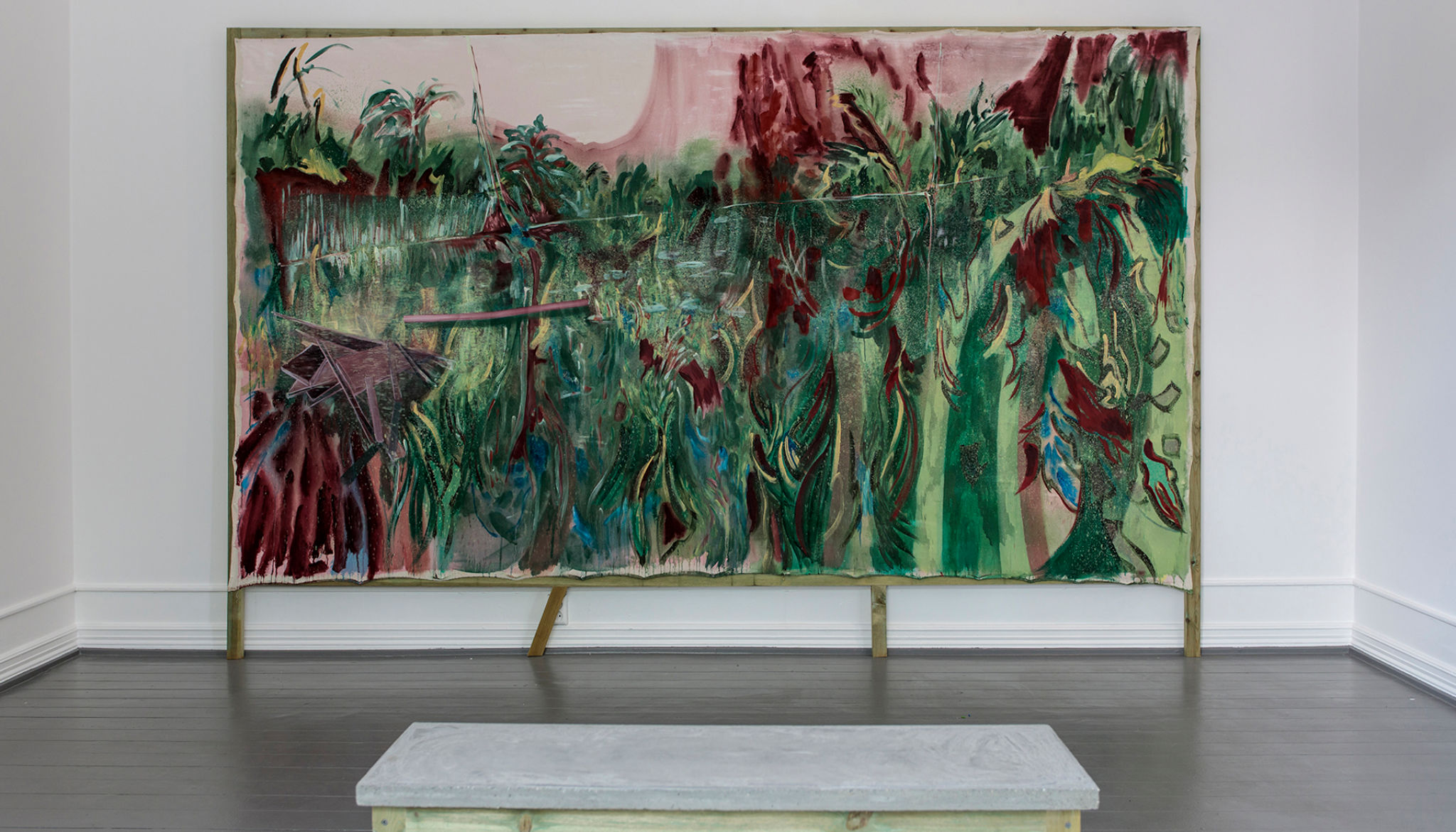 Exhibition
Apichaya Wanthiang
09. August – 02. September 2018
On the news I hear that the water has been rising. Flooding the fields, rotting the rice. I imagine what it must be like. To watch it happen and be powerless. From a distance I never really know what's going on. Although there's internet now, we are used to not communicating much. I try to imagine places around the world that have been flooded, all inter-connected in a precarious ecology. I worry, and worry that that is the extend of my engagement.

Frantically I search online for imagery. Try to grasp what the impact of flooding is. Both where you are, and elsewhere. I find an abundance of imagery. Muddy greens and browns, blood red streets of Dhaka. Beautiful and horrific at the same time. My painter's brain looks at the images and I see the sky and the roofs being mirrored, multi coloured objects drifting by, lights refracted. Yet what lies underneath these muddy surfaces? Through painting my body is forced to engage with abstract movements which are not mine. Attempting to embody a flood, entering a flow, nearing you.
For the exhibition Driftwood and Ghost Hunters, Apichaya Wanthiang has utilized source imagery of surges and floods as a foundation for her work. In addition to using this background material as concrete motifs, the concept of the flood has been explored in a broader, tropological sense. The global implications of the weather phenomenon is linked to her own background as a world citizen, originating from Thailand, growing up in Belgium and educated in Brussels and Bergen.

She simultaneously drifts between our own reality, with a superficial and academic relation to the destructive consequences of climate change, and the reality on the ground of rural Thailand – where her family is at the mercy of nature's increasing unpredictability for the crops they rely on for income and food.
The duality of the works with regards to aesthetics, content, dramaturgy and identity is part of the key to their force and immediacy. Driftwood and Ghost Hunters plays out as a personal, painterly dream-story which transcends the subjective and establishes a concrete space for afterthought on the questions of our time in local as well as global perspectives.
Apichaya Wanthiang (b. 1987, Bangkok) works with subjects connected with upbringing, identity and environment by examining and reshaping our surroundings: architecture, objects and movements draw outlines of the people who interact with them. Wanthiang received her Bachelor degree from LUCA School of Arts in Brussels and her MFA from the Bergen Academy of Art and Design. She has exhibited broadly in Norway and abroad, at Bergen Kunsthall, Kunstnerforbundet (Oslo) Taipei Performing Arts Center and Martin van Blerk Gallery (Antwerp). She has upcoming solo shows at UKS (2018) and Heimdal Kunstforening (2019) and is participating in group shows at Hordaland Kunstsenter (2018) and Louise Dany (2018/19).